Here in this house........

I will never know the loneliness I hear in the meows of the other cats 'out there.'
I can sleep soundly, assured that when I wake my world will not have changed.
I will never know hunger, or the fear of not knowing if I'll eat.
I will not shiver in the cold, or grow weary from the heat.
I will feel the sun's warmth, and the rain's coolness,
and be allowed to smell all that can reach my nose.
My fur will shine, and never be dirty or matted.
Here in this house...
There will be an effort to communicate with me on my level.
I will be talked to and, even if I don't understand,
I can enjoy the warmth of the words.
I will be given a name so that I may know who I am among many.
My name will be used in joy, and I will love the sound of it!
Here in this house...
I will never be a substitute for anything I am not.
I will never be used to improve peoples' images of themselves.
I will be loved because I am who I am, not someone's idea of who I should be.
I will never suffer for someone's anger, impatience, or stupidity.
I will be taught all the things I need to know to be loved by all.
If I do not learn my lessons well, they will look to my teacher for blame.
Here in this house...
I can trust arms that hold, hands that touch...
knowing that, no matter what they do, they do it for the good of me.
If I am ill, I will be doctored.
If scared, I will be calmed.
If sad, I will be cheered.
No matter what I look like, I will be considered beautiful and known to be of value.
I will never be cast out because I am too old, too ill, too unruly, or not cute enough.
My life is a responsibility, and not an afterthought.
I will learn that humans can almost, sometimes, be as kind and as fair as cats.
Here in this house...
I will belong.
I will be home.
We are a cat rescue located in Temecula California we offer Adoption, Rescue,Transport, Health ,Nutriton and Behavior counseling we use homoeopathic remedies and also Boarding.

For our senior cats we offer a retirement program for a one time flat fee they will have care for the rest of there lives for people that cant keep there senior cat and just cant give to a shelter, Please contact us if we can help!
Our Mission
Every Cat and kitten deserves a life of love and care.
__________________________________________________________________
Please click here for a Video Clip of Orphan kittens
$30.00

The adoption fee for our cats is 30 dollars all of our cats are fixed and tested for feline diseases before being adopted out..

With so many that need homes rescued from the shelter our adoption fee is $30.00 so that we can rescue more
Questions or comments? Get in touch with us at: the email below or call us on the tabby line at 951-442-2203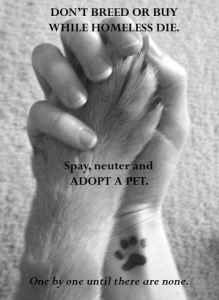 All cats for adoption are fixed have there shots and have all been tested for feline diseases.
how many have visited

Wepl do not board in cages your cat is a part of our family aPleasplnd our foster families with plenty of love and attention!please e-mail for a reservation!